Brazilian Jiu Jitsu is a grappling/submission/self-defense martial art that primarily focuses on ground fighting.
BJJ promotes the concept that a smaller, weaker person can successfully defend against a bigger, stronger assailant by using proper technique, leverage, and most notably, taking the fight to the ground, and then applying joint-locks and chokeholds to defeat the other person.
Jiu Jitsu translates (from Japanese) as the "Gentle Art". It was given this name due to the ability for practitioners to go 100% while staying relatively safe, unlike martial arts that involve striking. If those strikes are performed at 100%, the potential for damage/injury is much higher.
It's for the same reason that Judo got its name, which translates as the "Gentle Way".
Unlike Martial arts like Karate and Tae Kwon Do, there is no punching or kicking in Brazilian Jiu Jitsu, instead, BJJ uses throws, holds and submissions. In reality, BJJ has more in common with wrestling than the arts that rely on striking. BJJ is primarily a defensive art and is uniquely effective for "Real" self defense situations where the defender can't rely on size or strength.
Bjj is a journey, not a destination. Whether you are a brand new white belt or a seasoned Black Belt, the learning never stops, with that said it typically takes about a decade of regular training to achieve a Brazilian Jiu Jitsu Black Belt.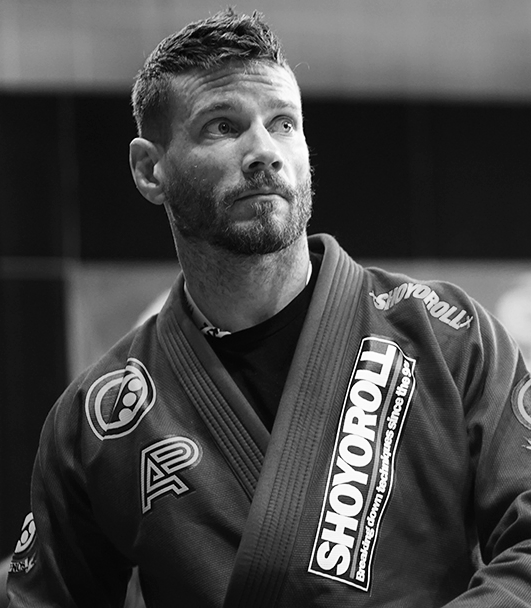 Tim Blackstone
Tim Blackstone
Tim is a Minnesota native and US Army Veteran who started his Jiu Jitsu Journey in 2005 while stationed in Korea. After returning from overseas Tim continued training under the Alliance flag and achieved his Black Belt in 2015.
Read more…
Rebel Jiu Jitsu
At Rebel Jiu Jitsu, we are committed to offering an innovative Jiu Jitsu program to match the needs